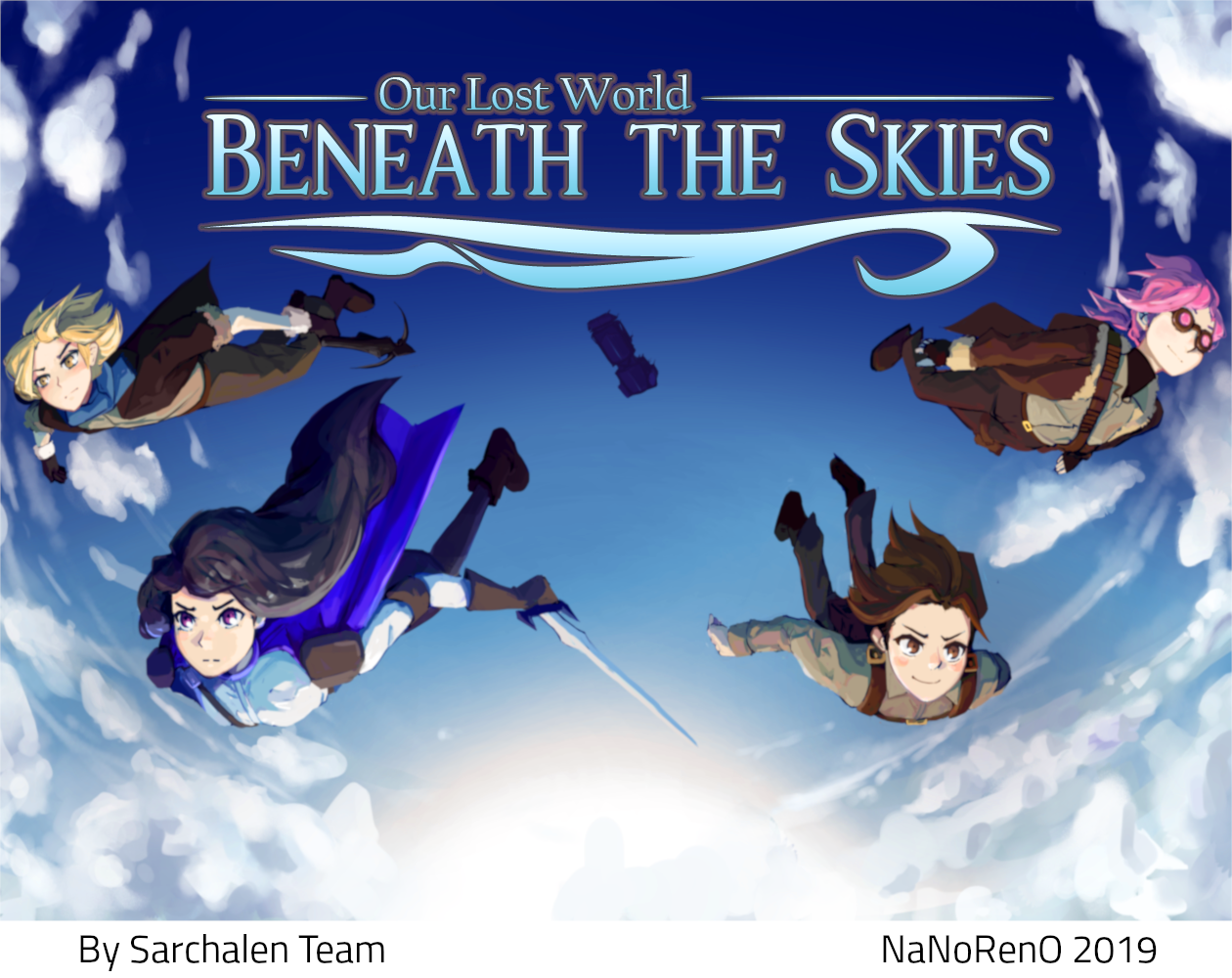 Our Lost World Beneath the Skies (With VO)
A downloadable game for Windows, macOS, and Linux
Thanks so much for checking out our game! If you enjoy what we do please support us by following us on twitter and sharing our content with your friends. Join us on our team's Discord to chat with the devs and our friends who made this project possible!


Tallara had never set foot on the ground, until he enlisted in the Spirelands Kingdom's Navy. Dispatched aboard the Airship Erebus, he hoped to drop in, throw some wind magic around, and return home to a life of luxury, a war hero. Instead, he's assigned to Flanker Section 33 where he's made to sweep the floors of the flanker berth, among other equally unheroic assignments.

On the frozen continent below, the Strikers of the Illanian Guard push back against a powerful invading army known as the Shuvur. With their brutal ice magic, the enemy has made significant advances into Illanian territory, devastating everything in their path.

Week after week, Tallara is left behind, deemed unready for combat. But strange events begin to unfold aboard the Erebus and his luck takes a turn when he, and two other misfits, Laverna and Magnus, are called to duty under a mysterious new squad leader, a beautiful Striker named Iris. Together, the four of them will dive from safety of the airship into the frozen world below on a special mission to end the war and reclaim their lost world.
Chapters one and two introduce the characters and give brief introduction to the world.


Kinetic VN of 11k words. 7 Sprited characters, 3 CGs, 10 original songs, full VO for most characters.

Credits:
Sarchalen Team Production

Kevin Bomer Director
Sandra 'SandraMJ' Molina Voice Lead
Able Kirby Staff Consultant
Monochrome Art Lead
Cast

Kieran Flitton Tallara
Madeline Dorroh Laverna
Dan Gold Magnus
Crystal Lee Iris
Stan 'Stanpai' Kuschick D'Aza
Samantha Chan Sura
Kameron Watson Bentis
Angela Tran Ellis
Kenkoy Intercom
Ariane 'Starleeter' Marchese Reah
Remi Flinterman Ace
Jakob Dillon Comms Officer
Visual Design
Momoca Character Design
Kart Prowler Event CGs
Erezu Environment Design
Re.Alice User Interface
Kenta Chiba Logo Design

Original Soundtrack
Timothy Adan
Dalton "GRV" Lafond
Able Kirby

Story
Kevin Bomer
Sakyawira
Able Kirby

Sound Effects
Beneath The Skies is proud to use sound effects licensed through Creative Commons including recordings created by:
heyim89yearsold* nextmaking**
InspectorJ* mickfire*
kangaroovindaloo* soundscalpel.com*
timmy_h123* Sauron974*
32cheeseman32* Huggy13ear*
qubodup* RICHERlandTV*
"and made available for public use by freesound.org
under the follwing creativecommons.org licences"
*CC BY 3.0 **Sampling+ 1.0
All recordings were adapted from their original format

Special Thanks
Tom "PyTom" Rothamel Renpy.org

Download
Click download now to get access to the following files:
OurLostWorldBeneathTheSkies-0.21-linux.tar.bz2
124 MB
OurLostWorldBeneathTheSkies-0.21-mac.zip
121 MB
OurLostWorldBeneathTheSkies-0.21-win.zip
122 MB
Comments
Log in with itch.io to leave a comment.
So is this game still being worked on or something? Is a pretty good
Hello DaSyaz!
Thanks so much for playing "Beneath the Skies"! This VN was released as a proof-of-concept demo for the 2019 NaNoRenO game jam. While we aren't currently planning to expand on this title, its positive reception and popularity has inspired me to consider exploring more of this world in a future project.
Stay tuned and feel free to follow us; we'd love for you to see what we're working on next!
-Kev-
cool visual novel! props for having VA (esp. for a jam VN) when most visual novels, even premium ones, don't. the VAs did very well. i had a few nitpicks with the writing and such, but overall very enjoyable. it had a neat twist at the end, and i'd be interested in seeing where the story goes.
Thanks so much for playing the game, and doubly so for taking the time to make a video commentary! As a small team we don't get a ton of feedback, so it really means a lot to us to see the kinds of things people notice as they play through the game. I watched the whole thing tonight and I've shared it with the rest of the dev team so they can see too

We hope to be working on a patch for this soon and we'll definitely be fixing some of the things you guys mentioned. I know for sure that sprite placement for when and where the characters appear on the screen will be revisited. Portraits for off screen characters are a really good idea!

Thanks again! I'm so glad to hear that you enjoyed the game. Be sure to check out our other VNs too if you get the chance! We'd love to hear from you.

thanks for checking out the vid! a lot of the nitpicks we had were mistakes we made in our first VN, so im glad the ramblings will help in some way lol! good to hear you're committed to supporting the game after release. speaking of, i forgot to mention in the vid, but a credit crawl at the end would be nicer than instantly going back to the title screen.
and indie hunters is always looking to play more cool VNs, so dont be surprised if we check out sugawara chronicle sometime. until then, godspeed with OLWBTS and sugawara's developments!
Promising. The game truly is promising on all aspects. I do thank you for this (little) journey into "Out Lost World Beneath The Skies". It was a real pleasure!